How VSI sand making machine works?
The vertical shaft impact crusher, also called sand making machine and rubble shaping machine, is a kind of crusher impacted by the materials themselves. It is of high energy but low consumption and of international advanced level developed by introducing foreign outstanding technology of the same type of products. At present, it is the most advanced and practical equipment for medium-sized and fine crushing and shaping.
It is widely used in fine crushing and rough grinding of metal, mineral, building aggregate, concrete, anti-fire material, glass raw material, manufactured sand and all kinds of metallurgical slug. It is also can utilized in shaping of high rank road surface. Compared with other kind of crusher, it is more advanced in intermediate hard, extra hard and abrasive material crushing, such as gravel, quartz, sandstone, basalt, silicon carbide, diamond stone and sintered bauxite.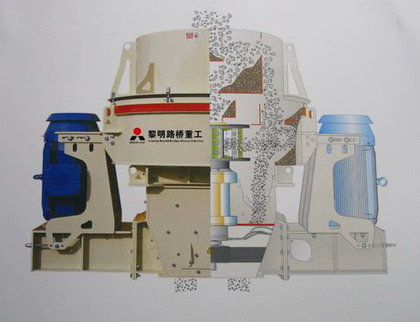 Illustration of How Vertical Shaft Impact Crusher Operates:
The stuffs, which fall into the high-speed rotating impeller from the upper of the machine, were stroked with other stuffs, which more around the impeller, because of high-speed centrifugal force .After they strike mutually, whirling fluid is produced between the impeller and outer covering .Through repeatedly striking and rubbing, the stuffs are crushed into pieces and straightly come out of the lower. The operating process circulates repeatedly. And then attains the fineness of the product.